Professor Lesley Diack 1955 – 2020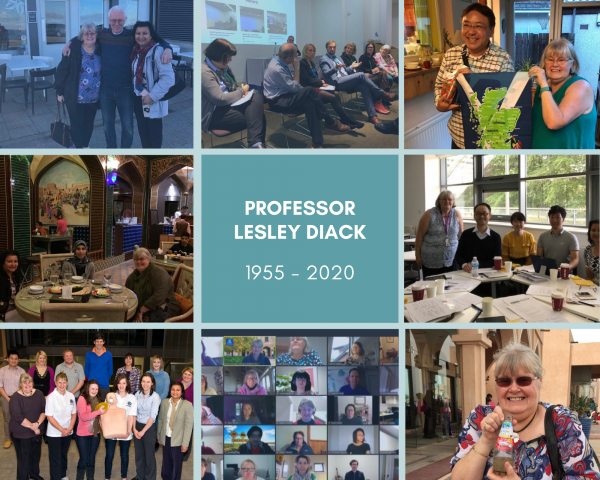 The worlds of Interprofessional Education, Collaborative Practice (IPECP) and Technology Enhanced Learning are mourning the loss of a wonderful lady, a highly talented gem, who radiated warmth and collaboration in everything she did. Lesley Diack died peacefully in her sleep in the early hours of the morning of Tuesday 22nd Dec. 2020. She would have celebrated her 65th birthday on 29th Dec. 2020.
Honorary Professor Lesley Diack, retired from her post as Professor of Transdisciplinary and Technology Enhanced Learning at the School of Pharmacy and Life Sciences at the Robert Gordon University (RGU) in Aberdeen, Scotland in 2019. She held an esteemed position as Honorary CAIPE Fellow since 2016, a role she accomplished with great enthusiasm and enjoyment. Lesley enjoyed her working life enormously. . Having commenced her academic career at the University of Aberdeen, she moved to Robert Gordon University and, more recently, returned to commence innovative roles with the University of Aberdeen. Her links with both Universities in Aberdeen were precious to her. Through this last year in retirement, she continued to fulfil many of her ambitions including her work with Police Scotland and also undertaking a major European Union funded project. She presented some preliminary findings from this project at the CAIPE Symposium in November 2020 titled 'The Impact of Covid- 19 on healthcare teaching and learning: A Delphi Study' https://www.caipe.org/resources/caipe-symposium . This was to be the last of her numerous presentations across the world from a career that spanned a few decades.
I was privileged to know Lesley at RGU and through CAIPE where she was instrumental in my introductions to the world of IPE and CAIPE. She supported and encouraged me for the past 18 years and became my friend, mentor and guide. We shared a passion for interprofessionalism, education, and collaborative working that crossed organisations, agencies and countries. We delivered so many conference and workshop sessions together, often finishing off each other's sentences. We would laugh about this and Lesley would joke about 'not being a health professional' and the insights that brings into her contributions.
I have had the honour of being with Lesley at ATBH conferences in Kobe, Pittsburgh and Oxford and we have delivered CAIPE workshops collaboratively in Newcastle and Worcester in 2019 and online with Melbourne University in October 2020. At the Kobe conference in 2010, Lesley had no hesitation in offering a platform for hosting the World Collaborating Centre (WCC now IP.G) website, such was her generous nature and her resolve to find a working solution to problems, even though this would mean a lot of extra work for her and her team at RGU.
The downtimes during and after the many conferences and workshops were very special. We were frequently joined by Lesley's husband, Bill. We often stayed in the same hotels and enjoyed breakfast as well as evening meals together. Bill would spend time exploring the towns and cities we stayed in during our working hours. Meeting up to enjoy a glass of wine and recap all our adventures, at the end of the day, was very much a part of the experience.
Family was such an important part of Lesley's life. She loved to speak of her four children, Fiona, Andrew, Shonagh and Calum and their progress in life as well as her grandchild Nieva. She was excited at the prospect of another grandchild on the way too. She made friends very easily with her gift of hospitality to family and friends alike and she kindled a warm, kind and generous spirit that lifted people and encouraged them. I have spent a few occasions upset in her office and she provided much needed support and encouragement. She valued her friendships enormously and had a big heart to accommodate many people from all walks of life.
Lesley loved travelling and as well as her numerous work trips she enjoyed good holidays each year. She admired different cultures and always wanted to try different things. I especially remember this on our trips to Japan and Qatar, where she quickly familiarised herself with the local cuisine and carefully adhered to the local customs. Her work with Qatar University and the College of Pharmacy was one she treasured very much. Her supervision of the first PhD in IPE and her part in the organisation of the first IPE conference in the Middle East in 2015, she considered as one of the highlights of her career.
She had a strong Christian faith and believed that all things worked together for good and so collaborative working came naturally to her. She was gifted academically as an educator and researcher, obtaining many prestigious funding awards when others were struggling to achieve this. The highest award in higher education that of Principal Fellow, was one she was proud to receive. She championed and empowered others. Her students speak highly of her commitment to their learning. She worked tirelessly for local communities and was passionate for all things Scottish including independence.
Lesley lived life to the full. The timing of her departure from us is particularly poignant as Christmas was such a special time for her, surrounded by her family and preceded by numerous get togethers with friends. We missed that this year due to the Covid restrictions. The impact she had on so many lives will resonate for a long time and the legacy she leaves through her research publications and her contributions to 'technology enhanced learning' will be valuable for many generations.
Her CAIPE family was precious to her as was her involvement with IP.G and she tried to attend as many meetings as possible. There is so much to write about this life well lived, the people she touched and the progress she made with many projects. Her 'joie de vivre' was infectious and I learnt so much from her attitude and approach to education, research, and family life.
She would always end our workshop presentations with the Aberdeen motto 'Bon Accord' used during the 14th Century Scottish Wars of independence and still used by the City Council- 'Happy to meet, sorry to part, happy to meet again.'
Heaven has another angel in their midst this Christmastime and I hope and pray we meet again, Lesley- rest in peace, my dearest friend.
Sincere condolences to Bill, Fiona, Andrew, Shonagh and Calum, thank you for sharing your wife/mum with the CAIPE family and the worldwide IPE community.
Dr Sundari Joseph
Vice Chair
CAIPE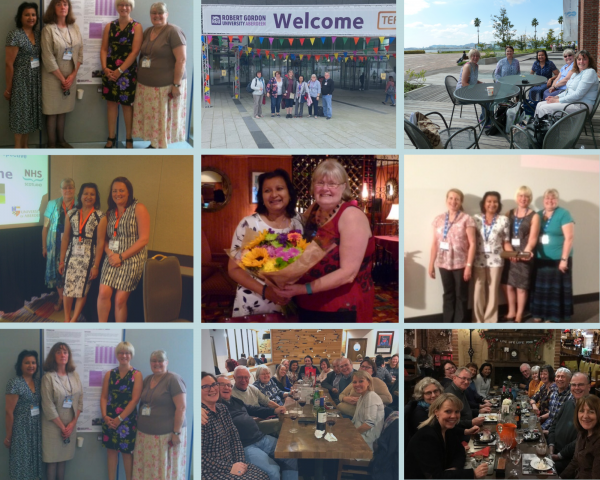 If you would like to send a message to Lesley's family, please do so on the form below and we will be happy to pass it on for you.
Tributes & Reflections for Professor Lesley Diack