Opportunity: Online, part time programme Health Professions Education (PG Cert/PG Dip/MSc), School of Medicine, University of St Andrews, Scotland.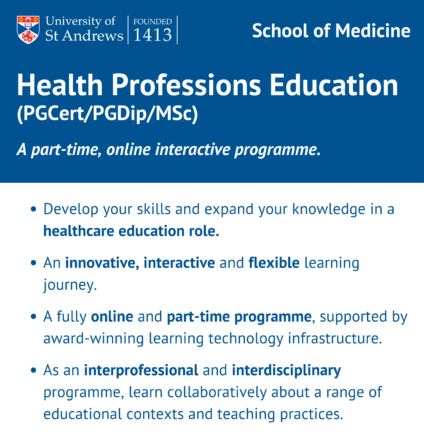 Applications are now open join our online, part time programme Health Professions Education (PG Cert/PG Dip/MSc).
This part-time, online programme is for those interested in developing themselves in a healthcare education role, which offers flexibility of learning to suit those currently employed in a health care or academic setting.
Applicants will be able to choose which qualification they would like to apply for, depending on which level they wish to complete.
There is an online information session scheduled to take place on Wednesday 15th February, which you can register to attend by completing this form.
Programme Highlights
Develop your skills and expand your knowledge in a healthcare education role.
An innovative, interactive, and flexible learning journey.
A fully online and part-time programme, supported by award-winning learning technology infrastructure.
As an interprofessional and interdisciplinary programme, learn collaboratively about a range of educational contexts and teaching practices.
The University of St Andrews offers a 10% discount to NHS-funded staff who wish to undertake the programme.
Further information is available at:  https://www.st-andrews.ac.uk/online-postgraduate-courses/health-professions-education/
Please contact us via email pgmed@st-andrews.ac.uk or phone +44 (0)1334 46 3599 with any questions.