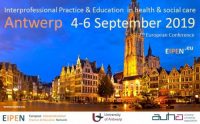 Don't forget that as CAIPE is an Institutional member of EIPEN we are members of the General Assembly, to decide on the policy and strategy of the society. The membership also provides a substantial reduction on conference registration fees and the opportunity to participate in seminars (open to all staff members of the member organisation).
You can use our membership to register for EIPEN 2019 Antwerp at a reduced rate.
Click here for the December 2018 Newsletter from EIPEN.