Be Part of the ATBH XI Conference 6-9 November 2023 in Qatar!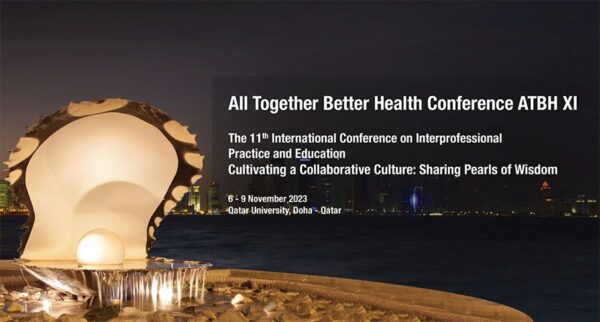 The Eleventh International Conference on Interprofessional Practice and Education – All Together Better Health ATBH XI sends you warm wishes for the new year and look forward to seeing you in Doha/ Qatar in November 2023 inshallah.
Qatar University is pleased to host the 11th All Together Better Health Conference in 2023, bringing the biennial event to the Middle East for the first time. All Together Better Health (ATBH) is the leading global IPECP conference, previously hosted in Japan, Australia, Sweden, United Kingdom, Canada, America and New Zealand. We are pleased to be bringing this biennial event to the Middle East for the first time. ATBH provides a collaborative forum for transnational champions to promote IPECP towards improving global health through consensus-based partnership, share ideas and address emerging health care challenges. The ATBH XI conference committee, in close collaboration with Interprofessional.Global, welcomes all practitioners, educators, researchers, students, academics, administrators, policy makers, and service users from health and social care settings from around the globe. The ATBH XI conference aims to inspire and provide opportunities to share knowledge, compare perspectives, exchange experiences and transform current understandings of IPECP.
Our conference theme is Cultivating a Collaborative Culture: Sharing Pearls of Wisdom. We are now accepting abstract submissions in the following sub-themes related to interprofessional education and collaborative practice:
1.    SHARING models of best practice
2.    INFORMING national, regional, and global policies and standards
3.    ADVOCATING for health and wellbeing
4.    EMBRACING diversity, equity, inclusion, and belonging
5.    PROMOTING safety in and beyond health services
Partnership Opportunities:
This year's conference offers numerous opportunities for your organization to connect with worldwide health educators and professionals from around the globe. Read more: https://atbh.org/partnership-opportunities/
Follow us:
Follow us on Twitter & Instagram @AtbhXI and remember to use the hashtags #atbh11 for any tweets/ posts leading up to and during the conference. Other conference information is available on our website https://atbh.org/
Important Dates
Conference dates: 6-9 November 2023
Preconference Workshop Submission deadline: 15 January 2023
Abstract submission deadline: 13 February 2023.
We look forward to receiving your submission and meeting you in Doha!
Warm regards,
The ATBH XI 2023 Conference Committee
Vice President Office of Health and Medical Sciences
QU Health, Qatar University
Doha, Qatar
Email: ipec@qu.edu.qa