Abstract Submission Deadline for ATBH-11 has been extended to 3rd April 2023.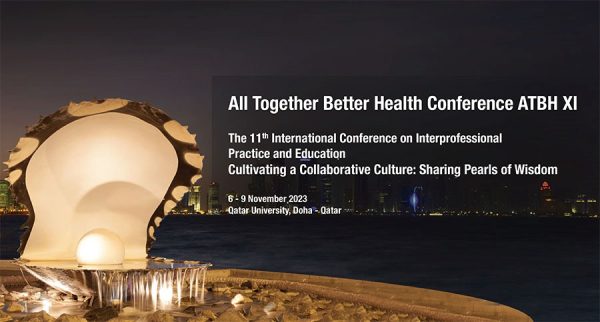 Dear Colleagues,
Ya hala from Doha!
We are pleased to announce that due to popular demand, the abstract submission deadline for the 11th International Conference on Interprofessional Education and Collaborative Practice, All Together Better Health (ATBH-11), has been extended! We understand that the conference theme of "Cultivating a Collaborative Culture: Sharing Pearls of Wisdom" has generated a great deal of interest and we want to provide everyone with sufficient time to submit their abstracts. As a result, the new deadline for abstract submissions is now Monday 03/04/2023. This is the opportunity for you to contribute to the global discussion of interprofessional education and collaborative practice and we encourage you to take advantage of this extension and submit an abstract for consideration for inclusion in the scientific program. This conference is a unique platform for professionals to share their research, ideas, and best practices in the field of interprofessional education and collaborative practice.
Abstract proceedings to be published in the Journal of Interprofessional Care:
Additionally, we are also proud to announce that the abstract proceedings from the conference will be published in the Journal of Interprofessional Care. This will provide additional visibility and recognition for our participants. Further information to follow!
Conference venue:
In other exciting news, we are also thrilled to announce that this year's conference will be held at the New Student Affairs Building at Qatar University, one of the world's most beautiful college campuses. This stunning venue provides the perfect backdrop for our conference, offering state-of-the-art facilities, an inspiring and conducive environment to network, learn, and share ideas and your pearls of wisdom alongside breathtaking architecture that truly embodies the spirit of Qatar University. We are confident that the conference experience will be greatly enhanced by the beauty and prestige of this location, and we look forward to welcoming you to one of the world's most beautiful college campuses.
Conference hotels:
Furthermore, we have secured two fantastic conference hotels: Sheraton Grand Doha Resort & Convention Hotel and Pullman Doha West Bay, that will provide comfortable and convenient accommodation for attendees. We are confident that you will enjoy your stay at this hotel, which offers a range of amenities to ensure a comfortable and enjoyable experience in Qatar. Transport will be provided from the hotels to the conference venue. This service will ensure that attendees are able to get to and from the conference venue with ease and comfort. Further info about these hotels will be posted shortly.
Don't miss this opportunity to be a part of this important event and to contribute to the advancement of interprofessional collaboration. We look forward to receiving your abstract submissions and to welcoming you to Qatar for what promises to be an outstanding and thought-provoking conference.
Best regards,
The ATBH XI 2023 Conference Committee
Vice President Office for Health and Medical Sciences
QU Health, Qatar University
Doha, Qatar
Conference website: https://atbh.org/
Email: ipec@qu.edu.qa